I joined the Army in 1970 for an anticipated 2 years and ended up flying helicopters for over 24 years. Flying mostly scout helicopters, I did spend about 12 years flying AH-1G, Q and S model Cobras. Along the way I found time to get a commercial fixed wing license and upgrade my helicopter certificate to Airline Transport Pilot.

I retired in 1994 in central Texas and just never left. After about a year of hanging around, I got the urge to again fly, this time for the fun of it. General
aviation fixed wing were just too expensive to operate and maintain so I looked at these little go carts with wings, as I envisioned them to be. Was I wrong! Today's ultralights are built with safety as the number one consideration. With a friends help I searched for the perfect ultralight. For me it ended up being a Quicksilver MX II Sprint, located in California. Easy to fly, forgiving and open to the world.
My friend, an owner of a Quicksilver Sport, advised me to wait until he could fly with me before I tried to venture out on my own. I thought, why wait, I've got so many thousand hours in helicopters, and a commercial in fixed wing, what can someone who has only flown ultralights show me? But he was my friend and so I agreed to wait. I was very glad I did. Flying an ultralight is so easy, and SO different from anything I had flown before, that I think I may have bent my lil' red Sprint if I had not waited. The feeling is hard to describe, somewhere between a fast hovering helicopter and a very responsive little airplane. After about 30 minutes of touch and goes without me trying to come to a hover I ventured out on my own.
From there it was downhill, I took the tests, flew the hours, passed the check rides and became a USUA instructor in ultralights. Then economics reared it's ugly head. Teaching people to fly ultralights will never make anyone rich so needing to earn a little money, I took a job flying tourists over the Grand Canyon for a season. When leaving there I had the opportunity to travel and live in Europe for a while so my Sprint had to sit and wait for a bit. Returning to the States I got myself married, and with all the extra things going on in my life, ended up having to sell my little sprint. Who knows what now, maybe a gyro??

---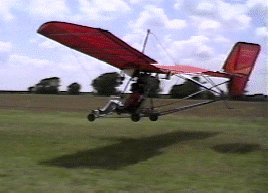 There is no problem with mountains here in Central Texas
---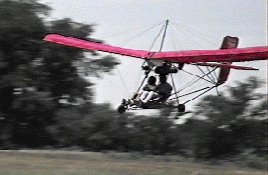 The little grass strip near Temple Texas
---