Cláudio Amaral always dreamed of flying but the price was just too high, until a small plane crossed his way. Featuring easy operation and low cost, the ultralight allowed him to make his flying-for-fun dream come true!
He flies ultralights at Associação de Pilotos de Ultraleve de Brasília (APUB).
He says: "The practice of ultralight flying is really quite safe if you just follow the safety rules. The bad statistics, the only ones that come to the news media, are made by irresponsible behavior (that unfortunately is found wherever we are). The challenges of dangerous flying eventually catch up with those people. The evidence of my faith in the safety of ultralight flying is that I also bring along my family when I fly. Since I first heard news about ultralights (I think from the early eighties), I felt then that there was my chances to fly for fun. But it wasn't until 1990 I had my first flight experience, after several invitations from a friend of mine (already addicted); and a few days later I saw myself deeply involved with ultralights. Today I confess to be totally dependent! "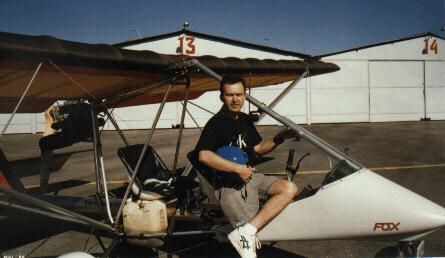 ---
He finished flight school and (with a certificate) started to look for his first plane, she was a Fênix (phoenix) he bought in a partnership. She was perfect for his first adventures. Now he owns a Fox V-II, which he thinks is perfect for the kind of fly he does: Cláudio says: "she is excellent for sightseeing, and very good for those who like navigation and think feeling "adventurous" is more valuable than comfort.
His adventures include his participation with another 22 ultralights in a rally over a beautiful landscape along a large river called Araguaia, inside the country; he flew 1000 miles. The second one was a solo flight from Brasilia to Guaratinguetá and back, it was a 1600-mile, 24-hour flight during 5 days of a great adventure. On the last flight a GPS kept him on track (what a tool!!!!).
---
Visit Cláudio at his homepage located at: http://www.geocities.com/CapeCanaveral/2292
or send him some e-mail at ultralight@geocities.com
---
Page Me With

ICQ's WWW Pager
---

DragonFlight@EarthCorp.Com
---